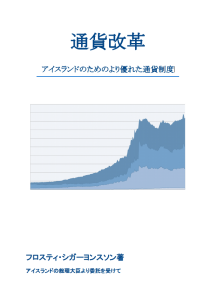 The report titled "Monetary reform – A better monetary system for Iceland" which I delivered to the Prime Minister in March 2015 has now been translated to Japanese. The Japanese translation is titled "通貨改革 – アイスランドのためのより優れた通貨制度".
The translation is the initiative and result of a voluntary effort by Mr. Kenji Hayakawa. He hopes that the translated report can be of use to Japanese politicians, scholars, and future policy makers. 
I would like to express my sincere gratitude to Kenji Hayakawa for contributing his time and skills with such generosity. It would make me very happy indeed if his translation can be of use in Japan.